Nepal has a diverse geographic, cultural, religion and language and it represents every feature of the world. It is highly enriched with natural beauty, biodiversity, kind and friendly people. And with this here are some more reasons why you should visit Nepal once in life: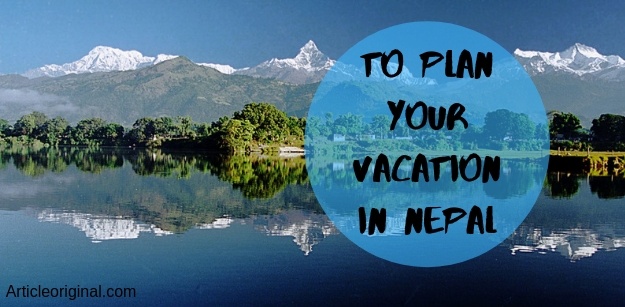 High mountains rangesThe tallest mountains in the world like Mount Everest (8848 meters), Mount Kanchenjunga (8586 meters) and Annapurna (8071 meters) is located in Nepal. Every Nepal vacation package includes the mountain trek. If you have never felt on the top of the world, then Mount Everest will make you feel like that. Because of the great height mountains, Nepal is a great place to go on a hike or a trek. Every year countless tourist come on the journey of Nepal for a trek and who are afraid of heights can admire the mountains from a distance.
Beautiful and impressive landscapeBesides all those adventures of high mountains, Nepal is home to the beauty of gorgeous lakes, rivers, glaciers, and jungles. Nepal has something for every nature addict from the amazing treks in the mountains, jungle treks to smaller hikes. Nepal is especially loved for the pristine lakes in Nepal, such as Rara Lake. This lake is actually located on a mountain and gives a beautiful landscape picture.
Amazing CuisinesIn the delicious food of Nepal, you will notice the combination of ingredients and techniques from neighboring countries, such as India, China, and Tibet. There are definitely similarities, and influences and a lot of restaurants in Nepal offer Indian food. The Nepalese cuisine does not have curries that are often based on tomatoes and has less and milder spices. Food in Nepal is generally quite healthy, and you will get a lot of vegetarian options everywhere.
Traveling in Nepal is affordableThe travel cost of Nepal is not really expensive, and you can travel on a budget. Everything is affordable whether it is accommodation, food, activities, and transportation. If you're looking for a more luxury, then the price will go a little high but your budget will still be comfortable enough.
Explore incredible heritage sitesNepal is home to two fascinating UNESCO World Cultural Heritage Sites, Kathmandu Valley, and Lumbini. There are enchanting Buddhist monasteries, temples, and stupas which will give you a delightful and enlightening experience.
Friendly and Hospitable Behavior of PeopleTourists love to visit a place which has friendly and hospitable people, and it one of the major reason to visit in Nepal. The Nepalese are hospitable and polite by nature and they respect guests and treat them like a God. Nepal is world famous for warriors Gurkhas. They are probably the bravest and boldest.
ClimateNepal has a very comfortable climate for people around the globe. Here summers are warm and pleasant and Monsoon starts in July and ends in September. If you want to visit Nepal for photographic vacation then Monsoon is the right time. Throughout the year, the climate plays an excellent role in beautifying the place.
ShoppingIf you are a shopaholic and love to collect stuff that will remind you of the place, then you are at the right place. Nepal has a colorful culture and is closely linked with religion, festival, cuisine, and other parts of Nepal-life. Top things to buy in Nepal are Thangka painting, singing bowl, Pashmina, rice paper, Khukuri, masks.
Village TourismNepal is a place where more than 70% of people still live in rural areas. They belong to different races, religiosity, cultures, and languages and have diverse costumes, food pattern, lodging and way of living. These variants in lifestyle are the source of attraction for the tourists.
A Safe place to visitNepal is also the safest place beside the natural calamities which are uncertain, but the infrastructure is well enough to get saved from disasters thus maintaining safety. The crime of theft and robbery is very rare as people of Nepal considers the tourists as the guest and treat them in a good way.
Even you have spent a few days or a week in Nepal, you will really miss the mountains, remote areas visit, and unique landscapes. Every element of Nepal will inspire you to make Nepal your next vacation destination.