The world is full of competition and everybody wants a job which offers job satisfaction, great career growth, and higher pay perks.
Every domain is generating new career opportunities for newcomers & professionals. So, why don't we get some extra skills that can make your career a step ahead?
But, choosing a right career path for a bright future is a tough decision, both for students and professionals.
Presently, there are so many institutions that offer a number of certification courses which is basically for short-term and enhance your exposure in a great way.
These short-term certificate programs are inexpensive and may often take less time than a degree.
Job seekers and Professionals can take the benefit of these courses to see their selves at a good position in a reputed company.
These programs help people who are just looking to start their careers, as well as for experience and want to advance their skills.
So, one can choose these short-term courses to make a successful career.
Here are some of the benefits of opting these short-term skill-based courses:
Gain a Competitive Advantage
Execute Projects with Increased Efficiency
Enhance Your Earning Potential
Improve Your Knowledge and Skills
Make Professional in you
In this modern era, you don't need to struggle like before. After successfully completing studies now you have so many options in every domain.
Below we have listed highest paying short-term courses in 2019.
1. Digital Marketing
Digital marketing is one of the most in-demand professions in India. It is a booming career option today.
Every day there are so many opportunities are coming up for those who are looking to make their career in this domain.
According to a recent survey by Economic Times, there will be 20 lacs job opportunities in Digital domain by 2020.
The scope and demand of this marketing are very high at present. One should not miss a chance to be a part of it.
Not just in terms of career growth, but the domain is beneficial in monetary terms as well. Here are some stats showing the approximate salary of digital marketers according to their experience.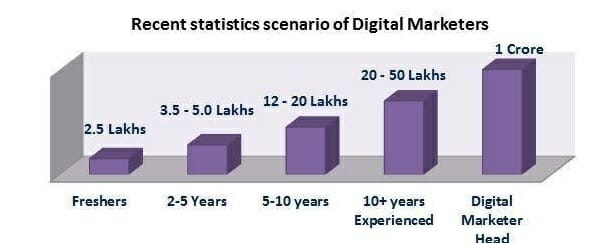 There are so many institutes that offer digital marketing course in cities like Delhi, Mumbai, Pune and Bangalore and in many more cities.
You can join as a Social Media Manager, Content Manager, Affiliate Marketing, Digital marketing executive etc.
There are enormous companies such as Google creating jobs in digital marketing. The future of this course is very high and quite promising.
So, this is the right time to take an action towards your career.
2. Animation Course
If you are passionate about doing something interesting like animation and want to make your career in this industry then you should definitely go for its course.
It can be one of the most promising career options available today; as Animation Courses give the frame to show your creativity in a visual form.
The demand for Animation is rising day by day. Advertising companies, carton industry, cinema industry, and other digital industry domains need these people in large number.
You can join a short-term course which can be pursued by the side of your college studies and can give you a basic knowledge of 2D and 3D animation skills in real time.
A well-experienced animator would easily get Rs. 50,000-60,000 per month.
3. Big-data
A demand of Big Data is rising due to the use of Big Data in businesses. It is kind of a hot skill these days. It is a term for data sets that are so large or complex that traditional data processing.
One can be easily hired as a Data Scientist, Data Analyst, Hadoop Developer / Architect, Hadoop Administrator, Data Engineer / Data Architect, and Machine Learning Engineer.
There are a good quality big data courses are available which you can join for your better future.
The average salary for big data analytics professionals is 8.5 lacs.
4. Graphic Designing
Graphic designing is a growing industry, and jobs are expected to increase by 13% by 2020.
The need for Graphic designers is rising in the entire marketing domain whether it is online media or traditional marketing.
You can learn the art of visual illustration of the thoughts by doing its complete professional course.
This short time period course of 3-4 months includes the basic software such as Photoshop, Coral Draw, and Indesign.
You can join as a Logo Designer, Visual Image Developer, Interface Designer, Art Production Manager in any company.
The average pay for a Graphic Artist / Designer is Rs 274,572 per year.
5. Networking Course
This can be one of the finest fields to decide. The career in this domain is incredible.
Due to the rise of mobile phones, laptops, and internet increases the opportunities for networking experts.
So, you can do a certification in this area and you will get so many chances to work with reputed companies such as HCL, HP, and Orange etc.
Undoubtedly, it is very vast. You can go for CISCO networking courses or you can learn Python, Pearl, and Ruby (scripting language).
A Sr. Network Engineer earns an average salary of Rs 678,705 per year.
6. Programming Course
Want to make a successful career in software development? As Software development is one of the high-paying jobs if you love coding.
You can start learning.Net, Java, C, C++, Python or any other programming language.
In metropolis cities like Delhi, Mumbai, and Bangalore there are a lot of institutes which offer short-term programming language courses and you can take the benefit of these courses for great exposure.
The average salary for a Computer Programmer is Rs 476,655 per year.
7. Website Designing
This course generally includes the complete skills and disciplines in the production and maintenance of websites.
The different areas consist of web graphic design; interface design, user experience design; and search engine optimization.
Employees of this industry are expected to produce 20 percent from 2012 to 2022, which is quite sooner.
It is also a promising career opportunity which displays a huge scope for interested candidates.
The average salary of a website designer is 30k per month.
Conclusion:
You can learn and choose your area of interest from above-mentioned courses.
As it will take a few months and an investment of time, money and your hard work but once you successfully complete the course you will be able to accomplish your goals.