Are you planning holidays with your horse and are you thinking about how to travel with horses? If both questions answer is yes then this blog might be helpful to you. Traveling with your pet especially with your horse can be filled with fun.
But it is only for small distance traveling. For long-distance traveling, it may be a headache for horse owners if you travel by road. If you have more than 2 horses and ponies then it is very difficult for you. But by using various types of horse trailers like double horse trailers or Box van trailer one can easily remove this headache.
So, by using Horse Trailers one can travel easily with their horse. But what about safety and other issues. So, for that here we give you 10 the Best Safety Tips for Transporting your Horse which may be helpful while Travelling Horses in Trailers. If you are looking for the same then stay connected with us and read the complete page carefully.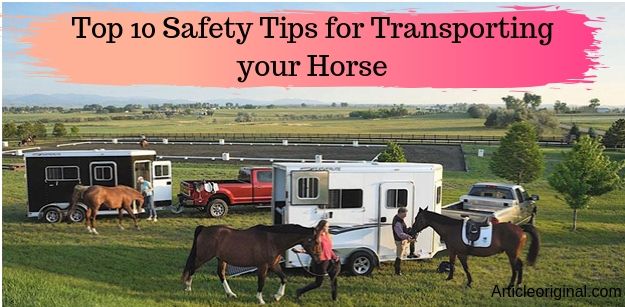 Horse Safety Tips while Travelling:
● Make sure your trailers are safe for traveling:
This is one of the most important aspects while you traveling with your horse. Before traveling, make sure that trailers are suitable as per horse size that is large horse may uncomfortable in small horse trailers.
So, select trailers as per your size. Not only this, but you should also check trailer's tires, breaks, lights, wheels, latches, and locks before traveling with your horse in the trailer. If you are a frequent traveler then you must be servicing your horse trailer once in a year.
● Carry First-Aid with you:
One of the very important tips that you should keep in mind the first-aid kit. This kit is very helpful in case of any medical emergency for your horses. But do you what you keep in your first-aid kit? If no then below we give you a list of things that you should carry with you in your first-aid kit.
● Duct Tape
● Your Vet Phone Number
● Stethoscope
● Disposable diapers
● Thermometer
● PVC Pipe
● Triple Antibiotic remedy
● cotton roll, vetrap, and brown gauze
● Emergency medicine, etc.
Your task is not ended here. But as a horse owner, you should know how to use first everything in your first-aid kit. So, please carry the first-aid kit of your horse at the time of travel.
● Take care while loading and unloading: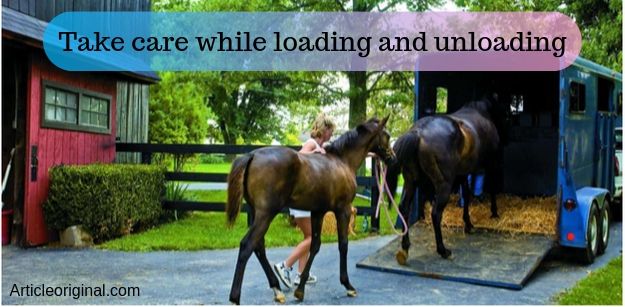 It is not an easy task for your horse to walk into the trailer and don't take it lightly. Many scared horses often run into trailers at the time of loading and it may harm your horse. SO, for safety purposes, at the time of loading open all the doors of the trailers and make the trailer as brighter as possible. At the time of unloading, don't release horses until you have all horse rope.
● Food Distractions:
Not only humans but horses also bored during the road trip. So, for time pass and stress-free eating food is the best option. So, avoid horse boringness provide food for them. But feed grain is not a good option for that. For that hay is the best option for your horse. So, hang a hay bag near all your horse's head.
● Do not use a chain to tie a horse in the trailer:
You should keep chain with you at the time of traveling with your horses but don't use a chain to tying your horses. If you do so then it may harm your horse leg even if the chain is loosened. By doing this, your horse may be fatigued, bloody, sweaty, and weak. So, don't use the chain at the time of travel.
● Use Travel Clothing:
Traveling clothes for horse provide protection from injuries and keep him safe and comfortable at the time of travel. Clothing for your horse should be well-fitted and suited in all situations. But these needs may be different from horse to horse. Not only this, but your horse also wears a leather head-collar which fits you perfectly.
Wear poll guards to protect your horse head from injuries. Your horse also wears rugs to protect their body from heat. Before your horse wears these clothes, make sure your horse used to from these clothes. Many horses don't like to protect their legs. So, before traveling, make sure your horse used to this clothing.
● Make sure your trailer is not too hot:
Aluminum horse trailers with mill-finished roofs became very hot during summer. If you travel with your horse in this kind of trailers then your horse may be put in danger and suffers from dehydration and fatigue. So, during long-distance traveling, you must make sure that your horse stays well for a long period.
● Don't allow your horses to hang their head out of the window:
Just like we humans, horses are not allowed to hang any part of their body from the trailer during traveling. A horse trailer is designed to protect your horse inside the trailer. If any part of your horse's body hanging outside, then he will be at risk.
His eyes may be injured by flying bugs and maybe cause an accident. So, if you want your horse to look outside from the trailer, then tie horses near windows and allow see outside from windows. In this type, you enjoy traveling with your horse.
● Check your horse Passport:
Just like humans, the horse also needs a passport to travel outside the country. Without a passport, a horse cannot be transported. Double-check your horse passport at the time travel. So, don't forget to carry your horse passport.
● Drive carefully:
While traveling with your horse trailer drive carefully. If you don't drive carefully then it may harm your horses which are behind you. So, you should be aware of your horse present and used to safe driving which is slower than the regular one.
Make sure you take a rest or stop your vehicle after every 2 to 3 hours. By doing this your horse enjoys riding as well as not getting boar. So, this is one of the most useful and important Trails riding Safety for your horse.
I hope you will get complete details about Tips for Safe Travelling with your horses. So, don't be afraid while traveling. But if you are afraid of then follow the above-given safety tip for your horses. While planning traveling makes sure you select the correct vehicle to pull your horse trailers. IF you like my blog on Horse Travelling safety Tips then share it on your social media and among your friends and horse lover friends. For any kind of suggestions please write to us in the below the comment box.