While the stock markets have been in a free fall, interest rates too are being driven downwards with a lacklustre economy. As an investor, there could not have been a more uncertain time than now. The important thing during an uncertain investing period is to move your money away from risky assets like equity if you are unsure of the companies you are invested in.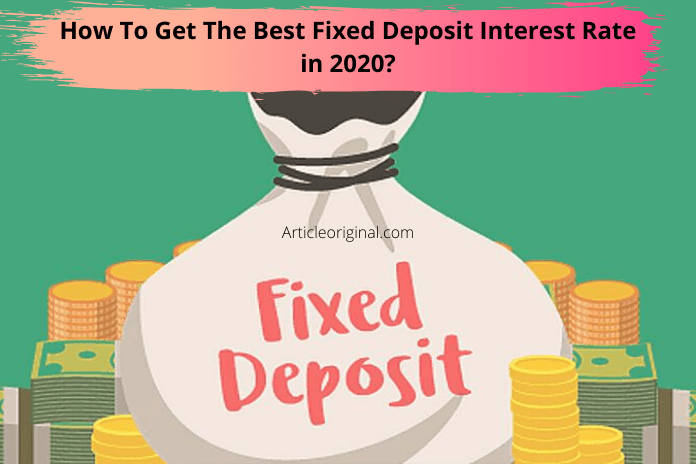 It is best to keep your investments in liquid funds or fixed deposits to weather the storm. The best FD rates in India currently are being provided by company deposits where banks have been offering the maximum up to 6 -6.5%.
Best FD Rates in India
Currently, company FDs such as Bajaj Finance FDs are offering one of the highest interest rates among company deposits in India. You can earn up to 8.05% for a cumulative five year FD. If you are non-senior citizen, you can easily avail a rate of 7.8% for the same tenor.
High Return on Investment
If you invest a sum of Rs. 1 lakh for 5 years in Bajaj Finance FD, you can look at receiving an ROI of 47%.  The table below shows the interest earnings and ROI earned as per your customer type.
| | | | |
| --- | --- | --- | --- |
| Customer type | Interest rate | Interest amount | ROI |
| New customer | 7.80% | Rs. 45,577 | 45.57% |
| Existing customer | 7.90% | Rs. 46,254 | 46.25% |
| Senior citizen | 8.05% | Rs. 47,273 | 47.27% |
Additional Interest Rate Advantage for Senior citizens and Existing customers – If you are a senior citizen, you can avail an additional 0.25% over existing rates and achieve a maximum of 8.05%. If you are an existing customer or a Bajaj employee, you can look at an incremental 0.10% interest.
Ladder your deposits with multi-deposit facility
You can use the multi-deposit facility provided by NBFCs like Bajaj Finance to ladder your investments across multiple FDs having different interest rates and different maturity timeline. This will ensure constant liquidity and best possible returns over a period of time.
Invest in small monthly instalments with SDP
With the Systematic Deposit Plan from Bajaj Finance, you can invest in an FD with small monthly instalments starting at Rs. 5000. You can choose the number of deposits from 6 to 48 in the five year tenor and decide when to make the payment. This is a great feature for new investors or new jobbers and people who are unsure of liquidity. Each deposit will be treated as a separate FD and you will earn interest on it as per the rate prevailing on the date of the deposit.
Ensure stability of returns – In this period of uncertainty, choose a provider which has a good track record and reputation in the market. Bajaj Finance Fixed Deposit has the highest safety ratings of FAAA/Stable by CRISIL and MAAA/Stable by ICRA, so you can get assured returns up to 8.05%. This is one of the highest ratings in an investment, equivalent to a bank FD.
Thus, with one of the most trusted names and highest rates all tenors, you can make the best utilization of these FDs to create a flexible and laddering-enabled investment. This will also keep giving you a steady stream of matured FDs at your time of need.
You can visit the fixed deposit calculator on the website and determine the interest rate applicable for different tenors and how much interest you can earn for that period by entering possible deposit amounts. Whatever amount you wish to keep invest, you can enter and check the maturity amount.