Brands around the world have long embraced social media marketing, using the reach of these incredible platforms to build their audiences even further and engage their existing customers to strengthen relationships. However, there are still many businesses that are not harnessing the value of social media to grow their brand. You might have wondered what the benefit of social media is for your business, in this article we will go through 7 of those key benefits.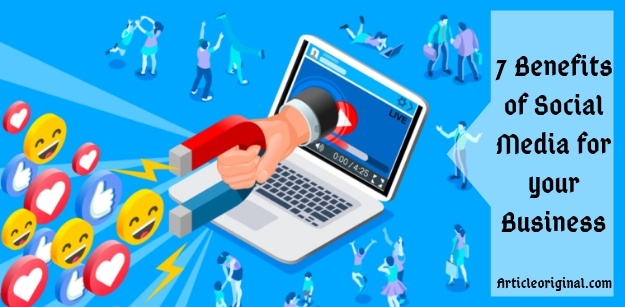 Improving your SEO and growing your backlink profile
The more your content is engaged with on social media the higher the chances are that people will see that content. Sometimes this leads to people referencing your content in their blog articles, this adds a natural and often high quality backlink to your brand's website. Any SEO consultant will tell you, how important a great backlink profile is when it comes to increasing your organic visibility on search engines. In addition, the social signals you receive from content engagement and sharing also contributes to your website's SEO so it's definitely worth exploring social media for your brand.
Building a larger audience and strengthening existing relationships
Social media provides an avenue for your brand to have a more direct line of two way communication with your customers which has multiple benefits. Not only are you able to build a larger audience, by getting your brand in front of new and cold audiences but your continued communication helps to strengthen the relationship with your existing audience and customers.
This often leads to more repeat customers. When people love doing business with your brand they can also become what is known as brand advocates, sharing your content with their friends and family. This type of audience also tends to provide really strong engagement metrics on your posts. This works in almost the same style as a testimonial for your brand, so when you post content about your offerings you may have a group of people providing commentary about how your product or service worked for them. When people who are on the fence about buying from you see this it increases the chance of sales conversions.
Building your brand's "know, like and trust" factors
With social media you are able to produce and distribute the type of content that builds that know, like and trust factor for your brand. Maybe you produced behind the scenes content, shared team member birthday celebrations or significant business milestones with your audience. These types of content and activities would not necessarily be appropriate for your website but on social media they perform really well and help to humanize your brand. Creating that real human connection along with those know, like and trust factors is a key benefit to the use of social media and helps you generate more business. Afterall people like to do business with people they like.
Growing your team
With social media you can reach more than just the consumer. There are business to business opportunities and also opportunities to recruit staff! Maybe you have a couple of positions going in your company and are looking for places to amplify your search for the right team member. There's nothing wrong with sharing those job opportunities on your social media platforms, you will notice that your audience will tag relevant individuals in their circle with the required skills to apply. You may also find that the people who apply are familiar and with your brand's offerings and may have even been customers of yours. This can lead to getting better team members because these individuals are already passionate about what you create.
Website traffic increase
You are able to drive more traffic to your website for free through organic posts or with paid advertising on social media platforms. You may have new content that users would not have been aware of unless you had posted it. So this is a great way to get that key content in front of their eyes and get them over to your website. Again, the social signals are also great for your SEO, so the added benefit of increasing search visibility applies here as well.
Amplify your email marketing efforts
Email marketing remains one of the most profitable tactics a business can you use to generate leads and sales, however, sometimes people simply don't get around to seeing your email so you can use social media to capture their attention in the newsfeed instead. Communicate news like upcoming sales or new stock in stores keep your brand top of mind through social as you would with your email marketing just to further amplify those efforts.
Having a strategic social media marketing plan in place is essential for your business if you want to have a diverse way to reach your audience. It's not enough to rely on pay-per-click advertising, SEO or PR alone as everything works together to create a holistic online brand that succeeds. Through effective use of social media you are able to strengthen your customer relationships, increase your audience size, stay top of mind, build brand recognition and amplify your email marketing and SEO efforts.