Systematic Deposit Plans or SDP is a savings tool that allows individuals to save a small sum of money periodically to build a substantial corpus for their future.
Allowing individuals to invest periodically with a sum of money as low as Rs.5,000, these plans can be a convenient financial tool for new earning individuals.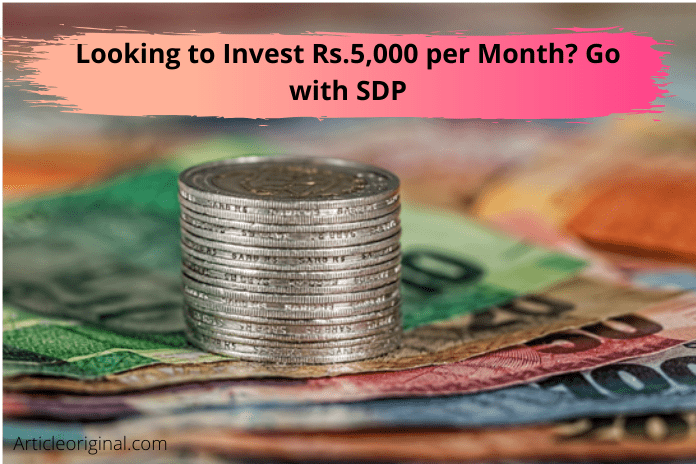 Advantages offered by Systematic Deposit Plans
While the fact that this scheme fits the answer to where to invest Rs.5,000 per month aptly, it is important for potential borrowers to also note the multiple benefits offered on them. The numerous benefits which come along with that of low deposit sum are discussed below in detail.
High rate of interest: As a savings tool allowing individuals to invest a low sum of money periodically, these policies also offer a high rate of interest. While the rate begins at 7.6% per annum, it can go further up depending on numerous factors. Senior citizens are usually offered a higher interest rate while the same is applicable to existing customers of a financial institution.
Tenor options: Multiple tenor options are also offered on Systematic Deposit Plans. Ranging between 12 and 60 months, investors can choose any maturity period, depending on their financial goal and capabilities. It is advisable to check the return with a systematic deposit calculator after deciding on the tenor and a few other details discussed below.
Choice of deposition date: Investors are offered 3 options to choose their date of deposition. The offered options are 3rd, 7th and 12th of a month, though it is important to note that once this date is selected during the application procedure, it cannot be changed before the completion of maturity. The deposition is automatically completed every month on the selected date.
Convenient payment: A common concern after deciding on where to invest Rs.5,000 per month is that of convenience of payment method. Once the financial account of an individual is linked after the first deposit via account payee cheque and the required mandate, investors do not have to concern themselves with managing it themselves.
Deposition frequency: This plan allows investors to choose the number of deposits they want to make.
After deciding on this frequency along with the tenor, applicants can use a systematic deposit calculator to check the exact return on their deposits.
Minimal requirements: The eligibility criteria of Systematic Deposit Plans are simply that of being above the age of 18. In terms of documents, the following are necessary to invest in this saving tool –
Latest coloured passport-sized photograph of the applicant.
Any photo-identity proof issued by the government like Aadhaar card, voter ID, driving license, passport, etc.
Applicant's PAN card details.
NACH mandate to link the financial account to the systematic deposit account.
Account payee cheque for the first deposition, which is used to link the account to this policy.
Ease of premature withdrawal: While Systematic Deposit Plans is the perfect answer to where to invest Rs.5,000 per month, it also offers ease in case an individual needs to withdraw his/her savings before completion of the maturity period. Any investor can simply withdraw one or multiple deposits as per their necessity, while the remainder of the deposits gains interest as per conditions. However, the account must have completed at least 3 months to be eligible for premature withdrawal.
Loan option: Investors can also avail a loan using their savings tool as collateral. As a secured loan option, this allows customers to avail a line of credit in case of financial emergencies at a lower rate of interest. Furthermore, these loans are also approved faster than other lines of credit.
A customer needs to compare his/her loss of interest in case of withdrawal with that of interest payment when availing a loan. This allows an investor to choose the option which least deducts his/her generated revenue.
How to apply for Systematic Deposit Plans?
After deciding on where to invest Rs.5,000 per month, investors should arrange the entire document list mentioned above before beginning with their application process described below.
Applicants must access the official web page of Systematic Deposit Plan offered by reputed NBFC Bajaj Finance.
They must fill in the relevant details on their application form.
After completing the submission, representatives will get in touch and collect the necessary documents from the applicant within a day.
The Systematic Deposit Plan is one of the best options for individuals searching where to invest Rs.5,000 per month. With the ease of application and the numerous benefits offered, this policy allows investors to build a financial asset that can help achieve their monetary goals.