A wedding is one of the most precious moments of everyone's life. Everyone wants to keep them alive forever. You can capture those moments with the shutter of your camera.  If we talk about candid photographs, they are always the best shots because they are captured with natural emotions.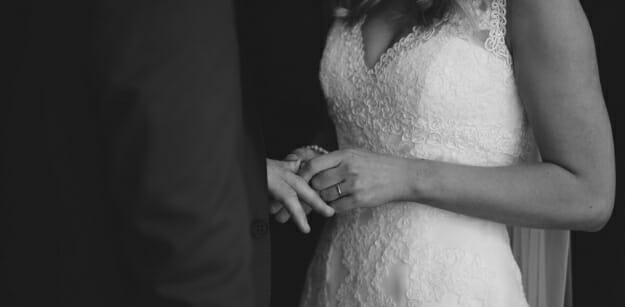 Here are some tips for capturing beautiful candid wedding photos:
Be always ready to take a shot: Take your camera everywhere and wait for the right expressions. The best photographs are always spontaneous. Click more and more photographs; it also helps the people to be more comfortable around you. Don't break the rhythm of those moments. Mix with the crowd and capture those smiles with your DSLR.
Take a long zoom: Manage a distance from your subject as they should be unaware that you are photographing them. Long zoom will help you to get more relaxed and natural faces. A telephoto lens will help you to shoot from a good range so you can easily click photographs from outside of their personal space.
Avoid flash: Flashlight is the most obvious signal which can tell that you are photographing them. Just a blinding flash can kill that beautiful moment. You can use a faster lens, increase the ISO settings, or can also use 'natural light mode' of your camera. These few settings can help you to capture good shots without flashlights.
Shoot multiple photos: If you take multiple photos at the same time, the chances of getting excellent candid shot is more. You can easily get the change in expressions like changing the simple smile into laughter. Switch the camera settings into continuous shooting mode and click lots of photographs.
Capture the photograph when people are doing things: Photos of people doing some things are always beautiful than just posing. While posing for a photograph, the subject always puts an extra piece of mind for getting a perfect shot. But candid photographs are always storytelling. Wait for the right time; get your subject busy in something then secretly take your best candid shots.  Sikh Wedding Photographers captures all the precious moments so that the people remember those moments for a lifetime.
Take shots of people with people: A photo with a story is always precious. Take photographs which tell the relationship of a subject to another person. The face is like an open book; the subject's expression can easily tell the relationship with the other person. Take more and more photos with family and friends.
Click from the hip: When you raise your camera, the subject may get aware that you are taking photographs and try to act unnaturally which kills that best candid shot. You can capture many photos because DSLR doesn't cost more for taking extra Set your lens to wider angle settings and take lots of candid photos.
Trick your subject: You can trick the subject like taking photos from the doorway or behind's someone's shoulder. You can also take photos when the subject is giving a posed shot to another photographer. You can steal that moment from another angle and get some excellent candid shots. If you the only photographer, you can take multiple photos during posed shots which can capture some precious candid photographs.