For publishing your website to the World Wide Web, you need domain and web hosting services. There are many web hosting companies across the globe but you should choose the best one that assures you high performance. The stats and facts prove that it is the high time you should review your web hosting service. In this article we will discuss in details that why do you need to opt for a reputed hosting provider: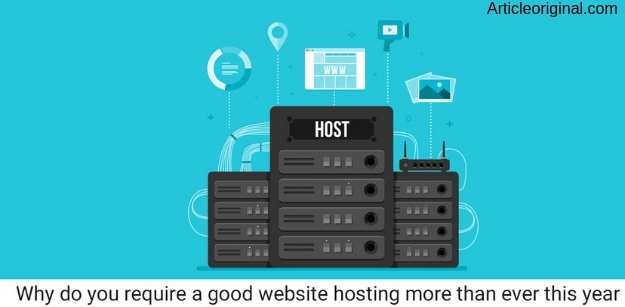 Reliability
Reliability is the prime factor to consider when you buy web hosting services. With seamless resource allocation, the good hosting services maintain fast speed even during traffic spikes.
It helps shoppers to quickly complete the actions and enables you to close the maximum number of deals.
You enjoy high sales and also win customer loyalty by offering them a positive experience.
As the search engine bots keep track of users activities on a website, it can also improves your ranking over a period of time.
How can downtime affect you?
Reduces Sales Revenue
Reduced staff productivity
Restoring costs and hassles
Damages online reputation and affects customer loyalty
Poor user experience
Did you know?
Last year Amazon registered a sales loss between 77 million and 99 million USD due to downtime of around 1 hour in a single day (Prime Day) According to an estimate based on solid facts, the businesses lose $1.55 million due to IT down times.
It also affects productivity as a total of 545 hours of staff productivity is lost due to downtimes
(source: https://www.businessinsider.in/Amazons-one-hour-of-downtime-on-Prime-Day-may-have-cost-it-between-72-million-and-99-million-in-lost-sales/articleshow/65058274.cms )
Security
With rising cases of cyberattacks the security has become crucially important for your website. Poor security exposes your site to malware and hackers who can steal mission-critical data and harm your business. In fact the hackers have now started using AI to explore the best ways to intrude your website and cause maximum harm.
Besides, some studies show that the hacking is no longer limit to an individual. It has evolved exponentially in both appeal and volume. Many hackers have started hiring a team to help them hack even more numbers of sites.
A reputed hosting company offers professionally managed security ecosystem with 24-hour monitoring, quick action plan, and competent anti-hacking measures.
Furthermore, the security system is reviewed and updated periodically to promise best protection against the latest security threats.
Support
Lack of quick and reliable support can be extremely harmful to your site. During technical issues, your site can experience costly down times if you don't get reliable support on a timely basis. In business terms, it means losing traffic and sales opportunities. In the long run, it can also affect your customers' loyalty and compel them to look for other substitutes.
A cyber attack can cause damage to the tune of $40,000 per hour.
Every year companies lose as much as $7.7 million to the cyber attacks.
American economy loses $100 billion to cyber attacks every year that is equivalent o 0.64% of its GDP
71% of cyber attacks are directed to the companies with less than 100 employees.
Small business lose $8700 to cyber attackers.
(Source: https://www.webfx.com/data/cost-of-hackers-in-the-us/img/cost-hackers-infographic-1200px.jpg )
Due to good team coordination even complicated issues are resolved within a reasonable period of time.
It protects your site from down times and performance lags.
In most of the cases, the issues are resolved before they can harm your business interests.
Did you know?
58% of small businesses are don't have any serious backup plans
60% of the small businesses are notable t restore the lost files effectively and lose that forever
Truly Unlimited experience
Technically every hosting provider promises you o offer unlimited resources. However, what matters the most is how quickly the resources are allocated during eh time of need. Any delay in allocating extra resources to your site can cause down times.
A reputed web hosting service is well staffed and equipped with the latest monitoring and automation technologies.
It facilitates to seamlessly transferring of extra resources during fluctuations.
You pay only a fixed amount on a monthly basis without having to pay additional charges for extra resources.
Website building tools
The nontechnical clients lack the expert skills to design their own website. Most of them cannot afford web designer due to the hefty charges and associated hassles/delays.
The reputed web hosting providers offer them a complete tool set and friendly ecosystem to build there own website without coding.
You can either use a pre-designed template to just insert your content in a specific layout.
Additionally, you can also extend your creative capacities by using website builder tools to create your website from a scratch.
Customer friendly plans
The reputed web hosting providers believe in customer first approach and ensure that all their plans are customer friendly. Right from easy to use hosting panels to SEO optimized themes and easy upgrades; they promise you the best experience.
You also get a dedicated manager to assist you in account set up, using CMS or uploading your websites.
Well-managed data backup and recovery ecosystem
Even the best security cannot guarantee you that your site is 100% immune to cyber attacks. So what you need is a kind of insurance to save your maximum data even during worst situations.
Professionally managed web hosting service offers you regular data backup and quick retrieval procedure during attacks.
It ensures that even during the worst situations you can still retrieve the maximum data.
It significantly reduces or simply eliminates the harm to your site or business.
Conclusion
Web hosting is the basic requirements for any website. It determines the vital qualities of your website that build the user experience like speed, availability and performance consistency. However, many businesses are not yet serious about choosing the best web hosting service for hosting their website. In this blog, we have presented the major factors that strongly urge the websites to review the web hosting quality. It will help the website owners to take the right decisions.