Digital marketing is the marketing of products and services done through digital channels. This means that it includes radio, television, offline digital marketing and internet marketing. Digital marketing is often used just to imply internet marketing. Internet marketing is a growing industry which means that you are constantly learning about new trends. Today, with the properly directed internet marketing, businesses can achieve new levels of success. It is essential that an internet marketing strategy be formed because marketing exists to target where the customer's attention is. And there is no place where people have got their attention today than on the internet. A well-established digital marketing strategy really helps to improve overall social media score of a site.
Another thing to note is that the trends on the internet are changing always. What was working 5 years back may not work today. This is because Google and other internet marketing platforms are constantly trying to improve user experience. When that happens, the algorithms change. Without the updated information of these topics and informed decisions, your internet marketing strategy is much likely to fail. If you wish to have a presence on the internet by 2019, here is what to note.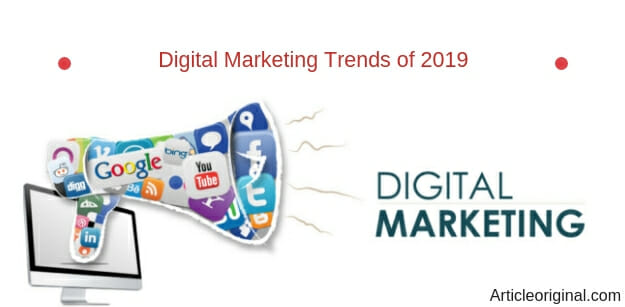 The omnichannel approach
There was a time when if you wanted to improve your internet presence, only one platform could be used to solely grab attention. This means that if you had a page on Facebook, that may been enough. But in 2019, this is not working. Omnichannel approach is referred to the use of multiple channels across the internet to cross- connect the users to improve their user experience. If you want to improve your presence on the internet in 2019, incorporate multiple or all of the following channels.
Pay per click
Growth hacking
Banner ads
Social media
Content marketing
The more of these channels you use, the better chance you have succeeding with your internet marketing strategy.
Voice search
It is recorded that by 2020, half of the Google searches that will be made will be through voice search. This means that more and more people are moving towards using this feature today. If your website does not contain the system to adapt to effective voice search, you can significantly lose customers. Start with a website with HTTPS format. Most websites that rank the highest today follow this format. Make sure that your website loads fast. Without loading speed, you are not ranking. Focus on creating content that is precise and to the point.
Conversion optimization
Not all the visitors coming to your website will become your customers. When you apply various techniques to maximize the number of people who are converting into your customers, it is known as conversion optimization in marketing. At the same time, advertisement is getting more and more expensive every single day. You will need to invest a lot of time making sure that you are converting the visitors that are getting expensive for you to get every day. Use tools that allow you to track your conversions and help you in tracking A/B marketing.
Aspire to give value
Content marketing has been around for some time now. Products and services are deliberately and flawlessly placed in the content to market them. However, there has been so much content out there saying the same thing over and over again that now it is time that you either focus on creating exceptional content or you are simply not providing any value to the customers. In 2019, you will see that content marketing will not work just as well with the same amount of investment.
Leverage video content
Up until now, we have been focusing on making our content as precise as possible. Precision does not mean eliminating important information but to create content in a way that no sentence is there just for the sake of filling pages. It does not work like that anymore. People don't have the time to read. Their attention spans are short and they find it boring to go through 1500 words when it can be said in 300 words. Likewise, graphic and video content is the future. People prefer info graphics over written content. This is why creating info graphics is one of the best ways to improve back links to your website. YouTube or Facebook, everyone is focusing more on video content today. It allows for user engagement and does not seem boring. You will need to start investing in videos today.