Microsoft Office 365 and Google Apps (commonly known as G Suite) offer various professional business email and productivity tools.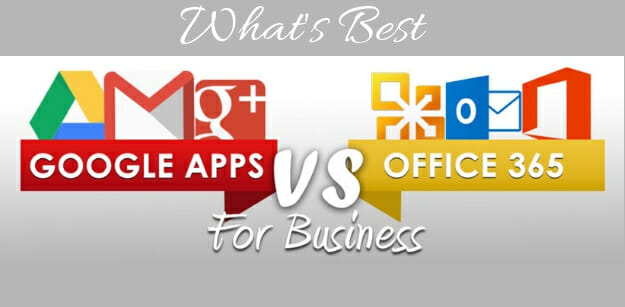 Google Apps is introduced by Google having productivity, cloud computing, and collaboration tools and software. It was launched on August 28, 2006. Google Apps comprises Gmail, Calendar, Hangouts, and Google+ for communication. It offers Docs, Slides, Sheets, Forms, and Sites for collaboration and Docs for storage. It also provides Admin panel and services.
Office 365 is a product of Microsoft released on June 28, 2011. It is a subscription service which provides Microsoft Office software suite as well as cloud-based services like Skype, Exchange Server, and SharePoint.
Both G Suite and Office 365 allows you to created documents, presentations, spreadsheets and tools for collaborating with the team members such as video conferencing functionality and cloud storage. So, now the question arises which is the best?
Here are some factors which can differentiate between G Suite and Office 365:
Word Processing: MS Office enables heavy-duty document creation but Google Docs provides a simple document creator. MS Word has rich features and can do many things which are can't be done using Google Docs. MS Word provides lots of features, many of them always go unused. Sometimes it also increases the complexity of the document. If you only have to create simple documents then Google Docs can be a good option but if you need to create a powerful document then you should opt for MS Word. Google beats MS Word desktop version by its sharing capability and real-time editing feature. You can easily access a document and make changes and every change will be highlighted. You can also check previous edits. It also saves your file automatically, integrates the add-ons and can be easily accessed by any device with the help of internet connection. Recently, Microsoft launches 'Ideas' pane which allows Office to make an intelligent suggestion for images and layout, design depending on your work.
Spreadsheets: Spreadsheets is one of the top tools provided by Microsoft. Excel is made for complex number crunching and sizeable data import and export. A new AI feature will be added in the Excel which will provide the users to transform the data into insights for better functionality. However, Google Sheets is able to create graphs, calculate auto-fill sums and another simple task. For using spreadsheets, without any doubt Office Setup is the best choice for you.
Collaborating Tools: Microsoft provides an instant chat-based workspace known as Microsoft Teams which lets you create group chats, send private messages and files. This tool is similar to slack because it notifies you if your name in the mentioned in the chat. Microsoft announced the addition of some new features like 'background blur' for video conferencing. G Suite offers Google Hangouts which is used for instant chats, group chats, and built-in screen sharing. It is a good option for instant chats but group project and constant collaboration Teams is the better choice.
Price: Microsoft Office 365 comes in three-tiered option: Business Essentials, Business, and Business Premium. Business Essential provides users access Microsoft's Online Office 365 with 1TB file storage and 50 GB mailbox, Skype, and Microsoft Teams for $6 per month. The business tool offers a full desktop version of Office 365, 1TB file storage and phone apps for $10 per month. The Business Premium suite offers all the features of Business and Business Essential for $15 per month. Office also provides a different range of enterprise packages for different mailbox and storage sizes. Google also provides three pricing options: Basic, Business, and Enterprise. For small businesses Basic is the best option which offers 30 GB storage, video conferencing, business email address, shared calendars and Docs, Sheets and Slides for $5 per month. For large businesses, the Business option is best because it offers unlimited cloud storage, e-discovery for emails, audit reports for $10 per month. Enterprise suite offers advanced security features for $29 per month.
Both Microsoft Office 365 and G Suite provide many exemplary features. Make a list of your essentials and choose a good suite according to your need and work style.