If you're feeling stuck at home, there are plenty of ways to while away a few hours, including places to "visit" and family-friendly activities to try. Here are nine suggestions.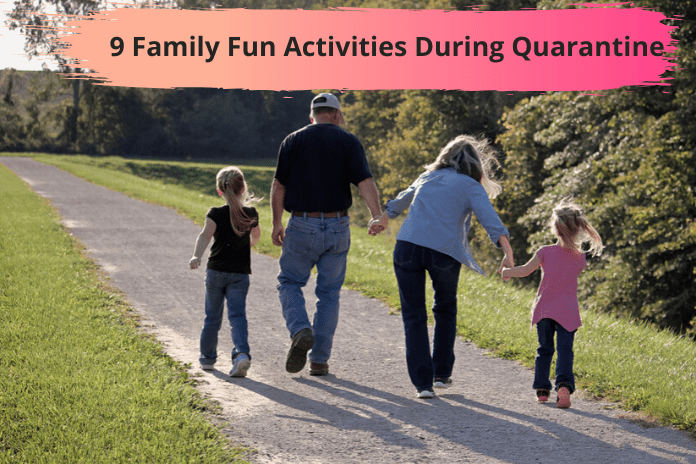 Travel
Ever wanted to check out the Taj Mahal or explore Stonehenge? Perhaps view Machu Picchu or eyeball some street art in New York City? It's just a few clicks away with a virtual tour. Start with Google Arts & Culture. It's chock-full of places to explore, and it's free.
Many individual museums also have their own 360-views at no cost to you. Tour the Smithsonian, the Vatican or the National Museum of the U.S. Air Force.
Many zoos and national parks have virtual tours or webcams set up, so it's easy to get in some whale-watching or explore Yosemite. Caves, forests, natural wonders and the northern lights are just a few clicks away, too.
Camp
If the weather's agreeing with you or you're game to rough it (a bit), consider setting up camp in the backyard. (Or, if outside expeditions just aren't happening, try an indoor one.) With a little elbow grease and a few supplies it's easy to make a pint-sized tent or a shelter big enough for the whole family to gather under.
If you're outdoors and have a fire pit or grill, maybe toast some s'mores or tell silly, funny or spooky stories.
Scavenger Hunt
A good way to occupy young minds is with a scavenger hunt. Give the tykes clue number one and send them on their way to track down the rest. Throw in a few brain teasers along the way to make the course more of a head-scratcher. It can be indoor or outdoor, or themed, like pirates searching for treasure or inspired by a beloved book or movie.
Obstacle Course
Create an obstacle course for the kids. Set up a series of challenges to do to get them from obstacle to obstacles. Have them crab walk from one point to another. Set up some twine or ribbon for them to limbo under. Pile up some cushions for them to climb over. The ideas are endless. Time them and invite them to try and top themselves. Or, get involved yourself. It'll amuse the youngsters to see you get into it, too.
Go Old School
Why not teach your kids a game you played when you were a kid? Grew up in the 1970s or 1980s? How about a game of Red Rover or Freeze Tag? Maybe some Chinese Jump Rope or Simon Says? Or, have them teach you some of their playground games.
Stage a Show
Have a daughter in dance? Or a son who loves to tell jokes? How about staging a little family talent show? Have everyone strut their stuff. Sing a song. Do a dance. Play a little clarinet. Whoever gets the most applause wins a prize. Maybe it can be the movie of their choosing, or they get to pick what's for dinner.
Document Things
You're home. You're together. Why not make some memories? Have a young aspiring filmmaker? Let her do a family documentary or have him make a movie and get everyone involved. It's easy enough to record video on the phone and then edit it there or on the computer. Cap the effort off with a debut screening. Don't forget the popcorn!
Drive-By Parade
Do you know someone who has a birthday or could use some cheering up? How about a drive-by parade? Get everyone in the car and make colorful banners. Involve a few others so everybody gets to the destination on time and honk, sing, offer birthday wishes. (At a distance, of course.) Or tie ribbons and streamers to bicycles and make a colorful formation going down your street. (If it's allowed in your town.) Put on a costume or some colorful face masks to make it more cheerful and fun.
Learning
How about working together to study a new language? Choose one that's spoken in many places or taught in lots of schools. Or consider the language of a country you'd like to visit one day. Label items in the house. Try easy games like Bingo so you can follow along and pick up words and phrases along the way. To really get into the spirit, how about a dinner with food authentic to that area or country?
Patrick Bailey is a writer with Sunshine Behavioral Health. Her interests are psychology, history, and social issues.