Hello Beerwanders! After a long tiring day, there could be nothing more complimenting then a cold beer while you relax. No just a relaxing drink, beer is can be a chill-partner when you are not in a mood to socialize much. Being a beer lover what if we tell the venturous you, that there are ways you can have hiking & beer trips exploring best-in-class beers.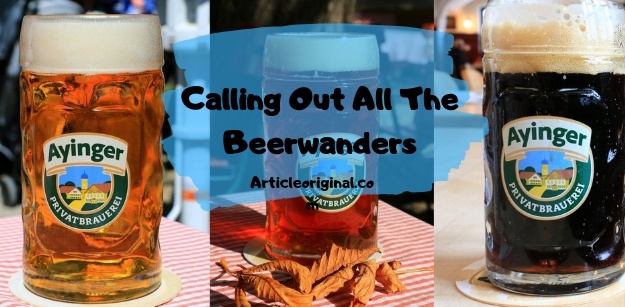 Imagine a combination of your traveling thrust accompanied by beer, for beer. Won't that would be the best trip ever in the history of touring? You might even find some of International Travel Deals along with this plan!
There are avid hikers, who have mapped out routes for imbibing while hiking from all around the world. These places end to some amazing breweries and pubs where you can taste a fresh brew of beer and good food.
Here we have crafted a list of a few amazing places for hiking & beer trips that mapped from various locating at different parts of the world.
The Pub Crawl
This massive place located in the eastern United States that stretches about 2,200 miles between Springer Mountain in Georgia and Mount Katahdin in Maine. The Appalachian Trail Pub Crawl is a place for people who are up for a very long vacation since it may take five to seven months to complete the whole trail.
While planning this hike don't forget to cover Smoky Mountain Brewery, Gatlinburg, TN & The Damascus Brewery, Damascus, VA along with other pubs that will come across your journey.
The Ice Age
Don't worry, we are not turning times to the ice age era, but in Wisconsin, there is an "Ice Age trail" waiting for you. This hiking area spreads over 1,000 miles, hugging the edge of the state's beautiful landscape. These were shaped by continental glacial ice more than 12,000 years ago, which explains how it got its name. This trip could cost seven to twelve weeks of your vacation to complete this hike from start to finish.
But don't worry, to take little exhaustion of there are a few remarkable breweries to seek shelter. You can enjoy a toast there, with mouth-watering chilled beer. A Little tip for motivating you for this journey; all the tremendous breweries located along the southern portion of the trail. If yes, come on this game of thrill in Wisconsin.
There are so many more places around the world where you could feel the thrill of hiking with you companion beer; to make the experience a little extra adventurous. You can twist things up with swapping up beer with wine. This could make it a more delicious experience for you. There are many International Tour Companies who provide packages for hiking & wine trips.
If you are confused about how will plan such hiking & beer trips, or maybe for wine, then you should consider International Tour Companies. These organizations have expertise in offering you a memorable hiking trip with brewing bonus spots for you in between. To aid you with this problem, we recommend this company as they can provide you with good International Travel Deals for your hiking & beer trips. If you are ready for a crazy adventure, contact them today!