#Seo
What is Link Reclamation? How to Recover Lost Link Value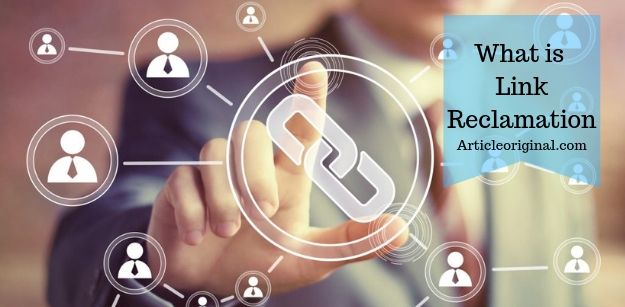 To be successful as an SEO expert or SEO consultant, you have to understand the importance of link building. This is because link building is the crux of any good SEO strategy. In addition, it generates leads and traffics to your website, giving you more conversion rate. While you understand and apply link building, do you know about link reclamation?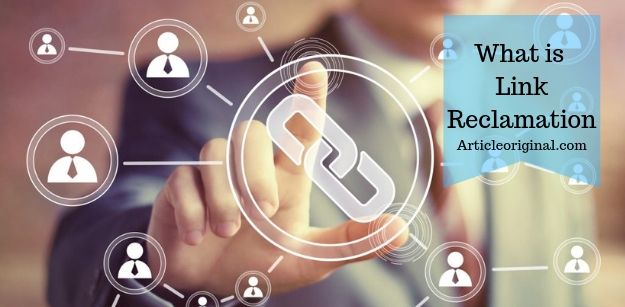 Link Reclamation is an entirely distinct concept and an important one at that. Often times many SEO consultants focus a lot more on link building without a thought of how to maintain those links. Though link building is invaluable, preserving your link profile so you don't lose the links that your website presently has is very crucial. There is no gainsaying that link building is stressful and difficult. Therefore, losing those links you painstakingly built without a warning can be quite frustrating.
What is Link Reclamation?
After you designed your website, you knew you would later require upgrades and many other changes with time. Consequently, you could decide to upgrade outdated features or perform an overhaul altogether. More so, it could be your company's growth that might warrant in the change of certain properties of your website. Or maybe, you have changed the goods and products you offer on the website. Whatever causes might lead to that. There are a vast majority of reasons. So what happens to those old links you generated prior to these changes?
It's virtually impossible to go through all the contents you have written, websites and social media posts where these dead links exist. You also cannot trace all your backlinks to ascertain that they are alive. It is at this juncture that link reclamation becomes needed.
Link Reclamation avails you the chance to make use of programs to detect those dead, broken and irrelevant links. You can choose to redirect these links, updating them by fixing the URLs, or killing them all together for good.
How to Perform Link Reclamation?
Link Reclamation constitutes a great opportunity for an SEO expert or SEO Consultant. This is because it sustains a great user experience for customers, maintains the link juice and helps to create new backlinks. As aforementioned, link reclamation makes use of several programmes. Now, we are going to explain them in detail.
Google Chrome Plugins
If make you use Google Chrome to browse the web, you can download a free plugin that will help you in the process of link reclamation. It goes by the name check my links. This plugin is also free, and its designers have said that they made it for website designer, content editors, and developers. To locate dead or broken links, simply run a check on my links on whatever web page you are in.
After that, you just have to click and open the Console log in the Google Chrome. There you are going to find the dead URLs and the HTTP response codes. After which you get to your Google Chrome settings, click on tools and then on lava script console, there you will see all the dead links.
Google Webmaster Tools
Perhaps you don't use chrome, there is yet another tool you could use. You can make use of Google webmaster tools to find your dead links.
More so, if you don't have an account with Google yet, do well to sign up. Google webmaster tools are free for everyone to use. This tool comes in handy for every SEO expert or SEO consultant and aside reclamation it can perform several other tasks which makes it extremely useful.
Once you have accessed your login, move to crawl section, you can then check for crawl errors and you will find the dead and broken links there.
Google webmaster tools go ahead to give you a breakdown of different types of errors you might be encountering. These errors can be.
Not found errors, here the webpage does not display because the URL is lost.
Soft 404, which suggests that the URL has been redirected, broken or dead and so cannot function properly. Server error, which means that there is an internal issue with the website.
Aside from informing you what type of bad link, Google webmaster tools also tells you the exact URL with the trouble. You can download if you wish, so as to view them in a more detailed fashion. To view them in a detailed manner, you require a spreadsheet programme, typically Microsoft excel. You can view it with any version of Excel so you don't have to worry if you are using an older version.
Use Microsoft Excel to open the Google webmaster tools URLs list. Carefully analyse the results, if the dead links are not many, you may need to go in manually and check for which links are broken.
Once you have analysed and obtained your dead or broken Links, you will now need to fix them. This process is stressful and time exhausting, however, you must have done it and to carry out this process you require Xenu Link Sleuth.
What is Xenu Link Sleuth?
Xenu Link Sleuth is the software you use to fix your dead links. More so, this software is free to download. Click on file, then, check URL to begin the process.
Once again you have to confirm your dead links using Xenu Link Sleuth. To do that, copy and paste the links in the dialogue box.
This, however, may take some time, so you have to be patient.
After the dead links have been reconfirmed, run a report. The report will then show you details on how you can fix all the dead URLs. Here, you have the choice to redirect the page, correct errors in the URL, or create a new page link entirely. Thus, getting the links alive again.
Final Thoughts
No website remains the way it was created forever Upgrades and changes are intermittently made. So there is a need for intermittent link reclamation since you don't upgrade your URLs along with your website. More so, no customer or visitor likes to click on a dead link to any website. It's irking to them. And for that, they may resort to searching the web for their needs and this could make them wind up in a competitor's website, and that becomes your loss, and I am pretty sure you don't want that.
Therefore, if you haven't thought of doing link reclamations, the earlier you start thinking about it, the better. You shouldn't wait for more. Yes, it's time-consuming, but in the end, it will be worth the while.