WHAT IS ADHD?
Attention- deficit hyperactivity disorder or (ADHD) is a condition which affects the brain. People with ADHD have problems in focusing and remembering what is been done around them. ADHD is a type of a neurological development disorder, affecting the way a person's nervous system is developing.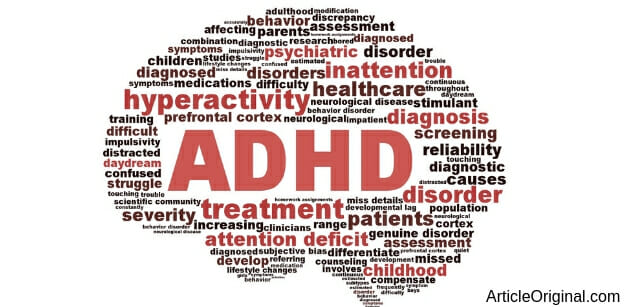 CASES OF ADHD
About 5% i. e one in every twenty children throughout the world has ADHD. Psychologist have conducted research and found that more cases of ADHD are present in North America as compared to Africa and middle-east.
ADHD is more common in children than in adults, with research showing that one in every fourteen children suffer from ADHD in United States of America.
SYMPTOMS OF ADHD
People suffering from ADHD have trouble in paying attention and can be overactive or impulsive, some of other symptoms are-
They get distracted very easily and have difficulty in focusing.
They have difficulty in completing any task and tend to lost items.
They can get bored within a short duration.
TREATMENT OF ADHD
ADHD has a changing nature and is development disorder. The conditions look and provide different symptoms at different ages. As a person grows older, the symptoms of hyperactivity become less prominent. There are many teens and adults who appear to be calm, but from within they feel very restless and distracted.
The characteristic features of inattentiveness lasts from childhood until adulthood, including symptoms such as forget fullness, dis organization and concentration problems. After a long duration of identification of symptoms, a professional can certainly disorganize ADHD and rule out order neutral disorders such as depression, anxiety and many others. But, this variation in signs and symptoms at different ages along with a possibility of confusion in diagnosis of ADHD and other mental disorders causes a great fear among people to get treated with the help of any ADHD medication. Most of the ADHD kids in Toronto are under professional care.
SIDE EFFECTS OF ADHD – PRIME REASON FOR PEOPLE BEING AFRAID OF TREATMENT
Sleep Problems: Trouble in going to sleep is often caused in kids due to the hyperactivity of the medication due to large doses than what is required.
Eating issues: Kids are seen to lose their appetite especially during lunch time as these drugs are at their peak of action about four hours after being taken.
Delayed growth: Kids especially the boys, grow more slowly while taking any medication which acts as a stimulant.
Nausea and headache: The patient has nausea and severe headache after taking ADHD medications. It becomes difficult for them to concentrate due to the severe headache and a feeling of uneasiness caused by nausea, and is seen commonly in ADHD kids in Toronto.
Rebound: It has been seen in many cases, that once the medication wear off, the child again becomes more irritable and aggressive. This is often called as a 'rebound effect'. Sometimes rebound can also occur due to a high dose than what is required.
Although the proper diagnosis of ADHD can be quite difficult, it is solely our decision if we want to take medications whether we are ready to take the risks. On the other hand many people choose to abstain from medications which can also be quite dangerous especially for children as the symptoms may hinder their studies and other activities.