You could negatively affect your credit score when applying for a personal loan. However, there are a few ways through which you can avoid hurting your credit score and improve it as well. Continue reading to understand the subtle steps that can be taken while getting a personal loan without damaging your credit score.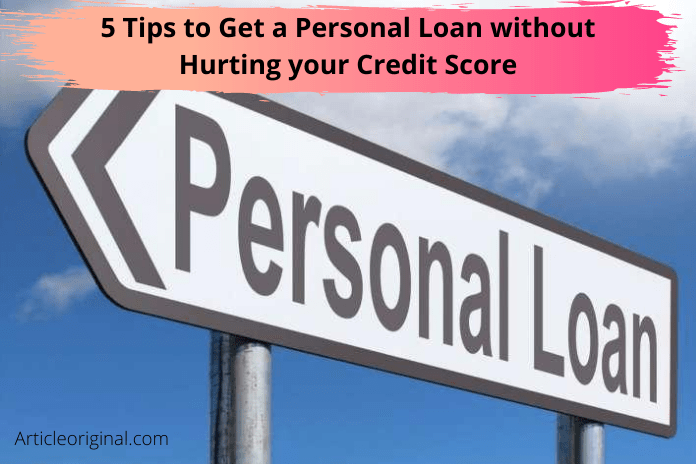 A personal loan can be utilised for various purposes like meeting emergency medical needs, educational expenses, wedding preparations, paying off long-term debts, etc. Though the eligibility criteria are not too complicated, lending companies do emphasise assessing your CIBIL score for a personal loan when you apply for the loan. That's because obtaining a detailed report on your credit score is the most effective way to determine your credibility. However, this hard scrutiny on your credit report affects your credit score adversely. Therefore, it becomes vital to know a few measures that can help you obtain a personal loan without hurting your credit score:
Tips to obtain a personal loan without affecting your credit score:
Stick to a single lender:
A simple way to get an affordable personal loan is by making a list of the lenders and choosing the one offering the lowest rate of interest. However, it is highly advised that you avoid applying for the loan with more than one lender. That's because multiple loan applications would lead to numerous strict inquiries on your credit score, and this can lead to a reduction by 3 to 4 points on your scorecard. Therefore, it becomes crucial to be aware of your credit score and try improving it. That's the best way to ensure that you get a personal loan sanctioned on favourable terms.
Do not walk away after applying:
A personal loan application gets approved after you meet the eligibility criteria and credit score requirement of the lender. The assessment of your credit score is done through rigorous inquiries. However, after going through this procedure, if you opt-out from a particular lender, then your credit score will drop by a few points. Subsequently, this will cause some hindrance when you apply to another lender. Therefore, it's recommended for you to avoid walking away from a lender after submitting your application.
Check whether there is scope for getting a pre-approved loan:
Two requirements need to be fulfilled to get a pre-approved loan. Firstly, you should have a cordial relationship with a financial corporation. And, secondly, your credit history should be clean and impressive. Once you meet those two requirements, the lender will analyse your business profile and offer you a pre-approved loan. There will be no hard inquiries on your credit score, and you will get quick approval for the loan.
Select a lender by benchmarking your credit profile:
Currently, the only way to determine the approval of a loan is your credit profile. Therefore, ensure that you choose a lender whose credit score requirement is in line with your existing credentials. For instance, you can opt for renowned NBFCs only if you haven't committed any defaults while repaying the previous loans. If you have been a defaulter with your past credit card payments or loans, then it's advisable to pick an NBFC who offers personal loans despite poor credit score.
Get an extensive understanding of the available personal loans:
The worst thing that can happen while applying for a personal loan in India is getting your loan application rejected. Subsequently, this will lead to a fall in your credit scores. And, the only way to ensure that it doesn't happen is by obtaining a clear understanding of all available personal loan options and requirements needed by different lenders. With extensive research, you will be aware of the lenders that fit your credentials and get a personal loan without hurting the credit score.
Conclusion
While opting for a personal loan, ensure you consider all the above points mentioned. These tips will surely help in avoiding any adverse impact on your credit profile.